Mini Review of the New Sahara Las Vegas Poker Room
In what seems like (and actually was!) many years ago, I transitioned from online poker to brick and mortar poker. An excellent place to help make that transition was the old Sahara Las Vegas poker room. The inexpensive tournaments were great. Food used to be provided during the first break in tournaments - mini sub sandwiches as I recall. There were usually good numbers in the tournaments and the atmosphere was non-threatening. I believe that my second in-person cash was at a Sahara tournament. The downsides of the poker room were that the place was kind of dingy, the chips were filthy, and it was all the way on the north end of the Strip.
Unfortunately, some changes in Las Vegas bring good things to an end. The Sahara closed in 2011 and reopened as SLS Las Vegas in 2014. I don't believe I ever even entered SLS as it had no poker room. Just last year, the hotel/casino was
rebranded back to the Sahara
. Rumors flew that the old poker room would return. It was great to hear that a brand new poker room would be coming to the Sahara! Las Vegas gambling expert
John Mehaffey
reported that this would be the first new poker room to open on the Strip since 2015. I was excited to hear that the room was to open a week before my scheduled trip to Las Vegas. A slight delay changed the new opening date to Valentine's Day - Friday, February 14. This new date was at the end of my Las Vegas trip, but gave me time to head down to Sahara, scope out the room, and actually get to play a little $1/$3 NL before heading to the airport.
I checked out of my hotel room at Bally's and headed to the Bally's/Paris monorail station. The trip to Sahara was swift. I was pleased to find that I didn't have to search much as the new poker room is not far from the monorail station at Sahara. It is just past the Northside Cafe & Chinese Kitchen. Another bonus to the location of the poker room is a casino cashier station that is just around the corner. Sweet!
So ...what does it look like?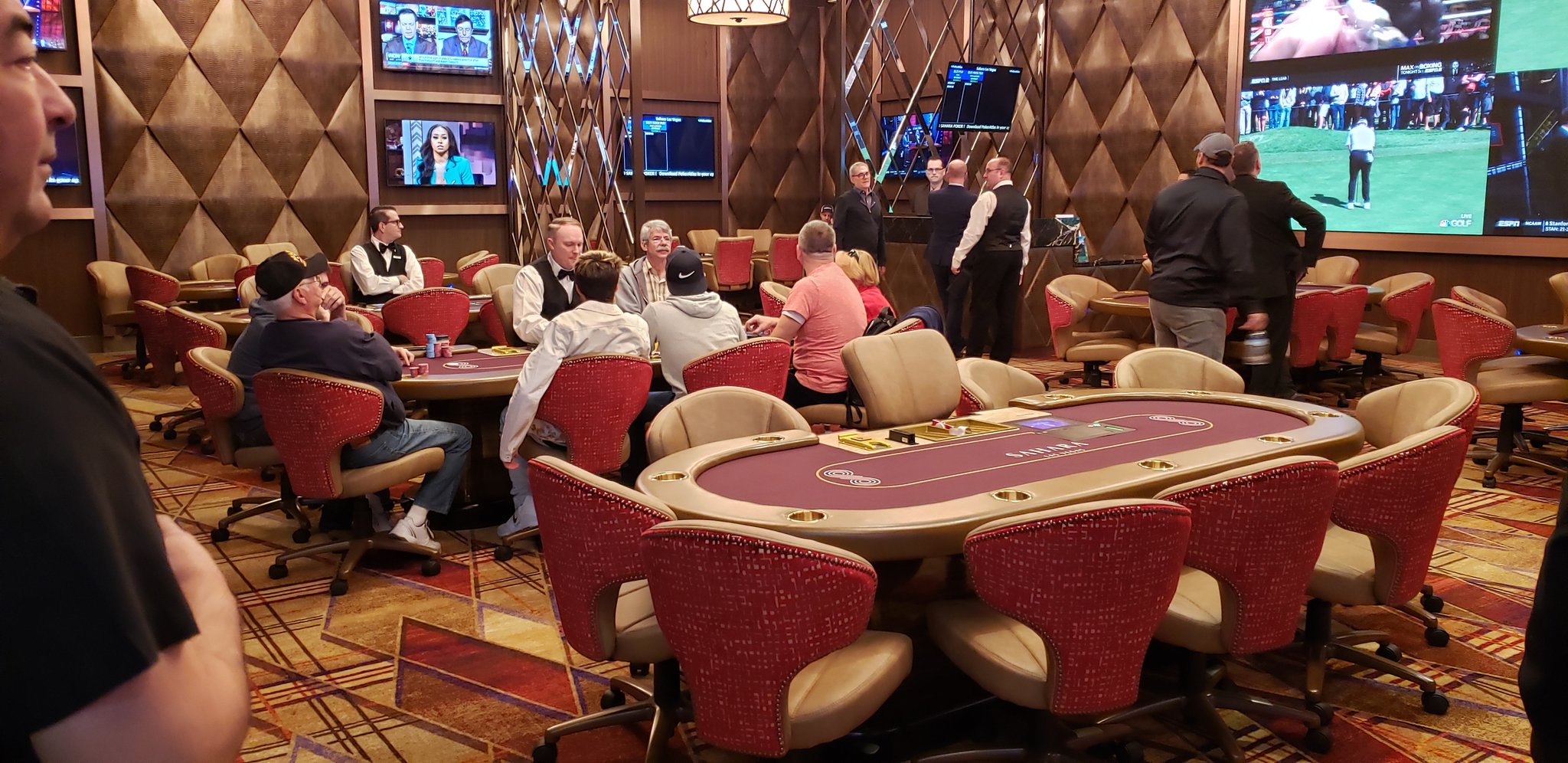 As you can see, everything is new ... and beautiful! The room has seven tables, which includes one sectioned off in the back -- presumably for high rollers like me! 😃 The chairs are comfortable and the new tables look crisp and inviting. There are charging ports at all the tables. And yes, I can confirm that the cup holders appear to be oversized.
Steven Pique, Poker Operations Manager, wants to highlight the following advantages to the room:
$2 comps, $3 Mon, Tue 10a-4p
$4 rake + $1 promo (coming next week)
Poker Room Food Menu from Northside Café
Poker Atlas download = $10 comps
Exclusive High Limit/Final Table area
I was not able to be there for the opening as I planned due to a successful late-night poker session at Harrah's Las Vegas. I needed a little sleep! I got there around noon and was put on the wait list for $1/$3 NL. It was apparently the first table running. I was seated after a short wait. Cocktail service was friendly and fast. The dealers seemed to be experienced and confident. The chips were fairly new -- clean and crisp.
I wish I could say that I crushed it on day one, but that certainly was not the case. In the approximately one hour I played:
I lost a hand Aces up and great kicker to a flopped set which upgraded to a boat on the turn.
I lost a hand with an overpair to a flopped set.
I lost a hand with trip Aces to a rivered flush. I could have played this hand better, but it was almost time for me to head to the airport and I did not want to win a small pot with trip Aces, so I didn't shove when I could have. Unfortunately, I let an opponent catch a flush on the river. My bad.
My Las Vegas trip was now over and it was time for me to head to the airport. Would I advise poker players to try out the new room? Definitely! With the new Sahara poker room joining nearby rooms at Wynn/Encore and the Venetian, the north end of the Strip now has become even more of a destination area for poker.
I have been concerned that some people in the poker world have speculated that over the next several years, poker rooms will again begin disappearing, leaving only a few of the monster rooms open on the Strip. I hope that does not happen. Consider supporting this new poker room. If it is successful, perhaps more casinos might take a chance on bringing more poker rooms back to Las Vegas and especially, the Strip.
Thanks for reading! And thanks to
AlaskaGal
for giving me permission to end this post with her tweet that features a short video panorama shot of the Sahara poker room.
— Kristi Smith (@AlaskaGal1) February 3, 2020