R.I.P David " Memphis MOJO" Smith: Poker Player, Bridge Master, Blogger and Friend
Mugging with Dave outside Corky's Bar-B-Q in Memphis
In a sense, I guess it was fitting that I learned of the passing of poker blogger David "Memphis MOJO" Smith while playing poker - sitting at a game of $1/3 NL at the Venetian. I was quite surprised to received a text message from friend
Rob
from
Rob's Vegas and Poker Blog
, asking me if I had seen the tweet from Memphis MOJO's Twitter account that Dave passed away. I had not heard anything from Dave for a few months.
Dave and I had been friends via the online poker world and our blogs beginning around the poker explosion after Chris Moneymaker's historic WSOP victory. We met in person in June 2009 when we both played in the WSOP Seniors Event. We made a last-longer bet, which I won.
My wife and I had a weekend trip to Memphis planned at the end of July that summer, and we met with Dave at one of my favorite places, Corky's Bar-B-Q. Dave paid off our last longer bet by buying dinner for my wife and me. My wife was happy to see that one of my online poker buddies was just a really nice guy and not some type of poker zombie!
Dave and I played together in a ton of private online poker tournaments. We always tried to keep up a lively conversation. And as we both frequently posted in our blogs, we made sure to read each other's and comment frequently to help support the blogs.
If you were friends with Dave, you knew that his passions, aside from poker, were bridge and photography. An interesting connection we had was that one of his bridge friends was the wife of the guy who painted both my current and my old house! Small world, huh? Dave had strong central/southern Illinois roots, so maybe the world isn't really quite so small. And unfortunately, no matter how hard I tried, I could not get him to spurn his beloved St. Louis Cardinals for the Chicago Cubs!
Black Friday in poker (April 15, 2011) changed the world for online poker players in the United States. With limited options for online poker, it was easy to lose some of the close relationships that many of us had formed. I still saw Dave occasionally in Las Vegas or on trips to Memphis. One summer we both played in the same tournament at the Golden Nugget in Las Vegas. Although I outlasted him again, I had been seeing from his results in Tunica, MS tournaments that Dave was getting better and better in tournaments. We met up at Harrah's Horseshoe in Tunica in March 2014 when my wife and I took a weekend trip to Memphis. I remember telling Dave that although he had been final tabling tournaments but falling just short of a win, I really felt like that breakthrough was coming. I didn't know at the time how right I was.
Three months later, Dave helped provide probably the most exciting poker experience I had ever had as he was making a deep run in the WSOP Senior's tournament. I was listening to the action on a half-hour delay and relaying his progress to my family. As more and more players were knocked out and his payday kept increasing, I was yelling the latest info to my wife. "He's got $48,000 locked up ... now it's $60,000 ... on and on until he got to the final table. Dave finished in third place for a whopping cash of $279,412. Yowsa! And if that wasn't enough, he took some of his winnings and entered the 2014 WSOP Main Event, making another deep run. My wife and I arrived in Las Vegas that day and zoomed over to the Rio to rail him. Unfortunately, he busted out while I was parking my rental car at the Rio. He finished in 477th place for a $ 25, 756 payday. My wife and I waited in line with him while he was awaiting his payment, then went to dinner with him at All American Burger. Since he had two nice paydays in that WSOP, I didn't argue when he offered to pay for dinner!
Me, Dave and Mrs. lightning36
Looking at the Hendon Mob database, it appears that Dave's last notable cashes were in January and February of this year.
The last I heard from Dave was in mid-June after I tweeted the following: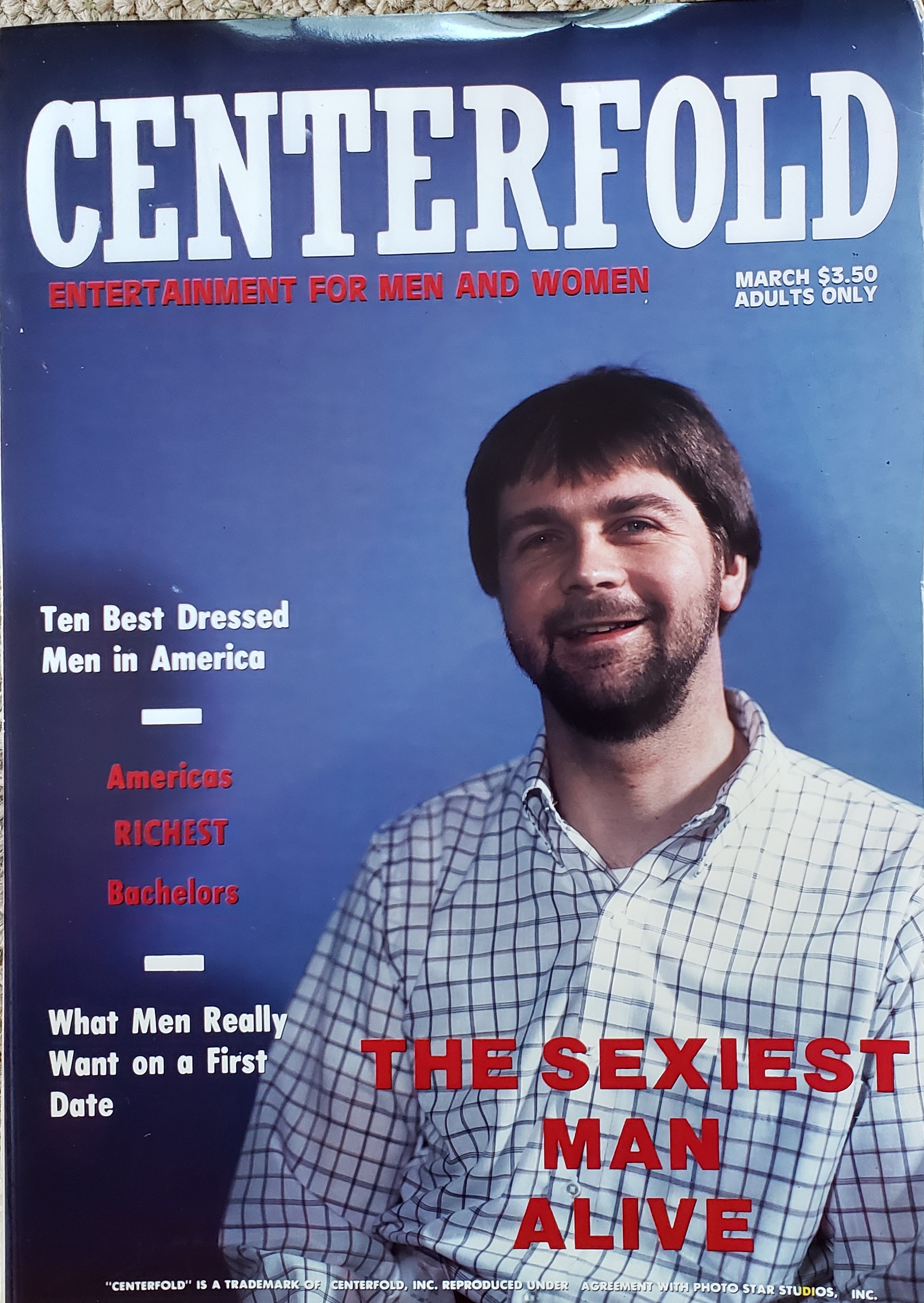 "Found this while cleaning out stuff at home. I made a fortune selling autographed copies. I can ship you a personally signed copy for $100. PM me if interested. Sorry - maximum of ten per person. While quantities last."
Dave's response: "Since I'm a friend, can I get more than 10?"
Dave was a great friend and I greatly enjoyed the time we spent together both in person and in poker tournament chats. I will really miss him.
Note: Dave's sister has noted that a nice obituary will be printed on Friday, September 11 at obituaries.effinghamdailynews.com
. An obituary and a guestbook are currently available at https://www.legacy.com/obituaries/name/david-smith-obituary?pid=196733190.