Trip Report: Las Vegas - November 14-18, 2022: Poker, Taylor Swift, the new Bally's Poker Room and Tragedy
Monday, November 14, 2022
With plane fares so cheap and hotels being reasonably priced (but damn those resort fees!), it seemed only right that this retired guy would once again head to Las Vegas to take on the poker world -- or at least the other people slumming at $1/2 and $2/3 NL. I am fortunate to have live poker relatively close to my house, and after getting out to play some poker at a poker room near me that I do not regularly play when Tony Bigcharles came to town, the desire to go back to Las Vegas got even stronger than usual. With high gasoline prices and cheap airfare staring me in the face, I once again chose to fly instead of drive to Las Vegas. A one-hour flight is always attractive. I had recently bought my first-ever backpack to stuff and make the return Frontier flight really cheap (thanks to ZetusLarry for the travel strategy), and was ready to go. My Las Vegas home for this trip would be Excalibur, which has become one of my go-to places. I always choose a Stay Well room if one is available.
I decided that the easiest choice to make would be to head to MGM Grand for my first session of poker since it was so close. This day was the first day that the new Bally's/Horseshoe room was open, and the wait lists looked enormous. I figured that room could wait until tomorrow as there would be virtually no wait at MGM. There was a time when MGM was a regular honey hole for me. Although I have not kept track over the years, I am pretty sure that I ran up a decent profit there, but not so far in 2022. Once again, MGM was not good to me.
I had been running about even -- a few okay pots, lots of hands that didn't connect with the flop -- when I looked down to see The Dreaded Pocket Kings (description courtesy of RobVegasPoker). There had been a standard raise to $12 and a call, and I bumped it up to $35. The big stack at the table called. I had seen him win and lose some big hands, so it was hard to get a good read on him. Surprisingly, there was not an Ace on the flop! There were, however, two heart on the board, so I bet $75. He called. The turn looked innocent, and with less than $200 behind, I shoved in case he was on a flush draw. When he called without much hesitation, I thought I might be in trouble. The river was a brick, and as I turned over my K-K, I saw that he had flopped a set of 4s. Time to rebuy.
I ran into a long card dead streak. Finally, I got my wish and was able to play a hand. a player raised to $15, and I looked down to see Ah-8h. The flop had two hearts and the highest card was an 8. A good flop for me, I thought. The other player raised and I called. The turn was a brick. He raised again and I called. The river was a King. I missed my flush, but I saw a chance to represent the King, so I shoved all in with basically nothing. My opponent had about $180 behind and went in the tank. I was tempted to call the clock, but decided to let him stew. He finally reluctantly called -- with Q-Q! I folded my cards, told him that he had a higher pair, and went to the slot machines to lick my wounds. What a crappy way to begin my trip. I felt like I was too reckless and wanted to make sure that I played better the next day. Little did I know how challenging the next day would be for me.
Tuesday, November 15, 2022
This day was an important day across the country because of one young lady: Taylor Swift. Presale tickets for her US tour were going on sale, and it was sure to be a major shit show. My oldest daughter and two of her friends were desperately trying to get tickets to one of her Chicago shows, and I was going to try to snag a couple of seats to my local show in Glendale, AZ. Ticketmaster had major problems, as expected. I though I was going to be able to get some tickets, but my the system froze up when I was trying to buy the seats I selected. I was bored and decided to check my old work mail account. As a retiree, I am still allowed to keep an email there, and I occasionally check it to find out news from back home. I was shocked to see an email that led me to believe that either the daughter of the grandson of one of my work friends was suddenly and seriously injured or killed. I messaged my former administrative assistant to find out the bad news: my friend's daughter had walked her son (about 7 years old) to school and was walking home when she was struck by a large vehicle in a crosswalk and was killed. I had worked with this woman but really knew her more as my friend's only child. He and his wife had very carefully plotted out their retirements and are both scheduled to retire next summer. They head everything carefully planned out. I was devastated.
The next several hours are quite a blur as many of my former colleagues contacted each other. We were all in tears. I had just been texting with my daughter about Taylor Swift tickets, yet my friend now expectantly lost his only child. She lived in North Carolina and my friend and his wife, both still living in central Illinois, were regular visitors. It all seemed unbelievably cruel. I basically stayed in bed all day as I and other friends tried to cope. My daughter texted me, extremely excited since she and her friends got good seats to the concert they wanted before Ticketmaster shut everything down. I thought about how fortunate I was to still have my kids and Venmoed my daughter some money to help pay for the ticket. I got up, had some dinner, and headed to Bally's with a heavy heart.
The best word to describe the new Bally's/Horseshoe poker room: Wow! Excellent new tables, great comfy seats, smartly designed, brightly lit up, with lots of room to walk between the tables. The only physical problem seemed to be that the phone chargers at the new tables did not all work.
With everything that went on that day, the session is a blur. ZetusLarry played for a bit but didn't feel well and left. I briefly saw my old buddy, Bally's poker dealer Ron, who had been waiting for years to finally see the kind of poker room that Bally's deserves. When I first got to Bally's, I was seated next to a player who looked very familiar to me. It was who I thought it was: Dan Heimiller, winner of two WSOP bracelets. More importantly, to me, was that he was the villain who knocked out the late Memphis MOJO, a good friend, at the final table of the 2014 Seniors Championship. MOJO finished in third place and Heimiller took it down. I was kind of surprised he was slumming with $1/3 NL guys like me! He was directly to my left, and fortunately left after a short while. I do remember busting one guy when I hit a nut flush on the turn and I did not win anything in the room's high hand promotion, but I did accumulate a big stack -- enough to more than cover my loss at MGM, so the poker world was alright again. But it was one hell of a long, painful day.
Wednesday, November 16, 2022
I decided to start this day's poker at Aria, where I have had mixed success in 2022. The wait didn't appear to be too long, and soon I was seated in a $1/3 game. a guy two seats to my left abused me a few times, so I was hoping that I would have a chance to even the score. I finally got that chance and was able to use the tight image I had at that particular table.. I was on the button with AhQh when the villain opened with a raise. I easily called. The flop had low cards but two hearts. He raised and I called. The turn was a brick. He put in a larger raise and I immediately called. The river was another brick. I was already in for quite a bitt of money in this hand. The villain checked on the river and I insta-shoved my stack of $400+ with a pair of deuces with an Ace kicker. He had been losing some hands and his stack was depleted. He looked at the $300 in front of him and, as I anticipated, was not prepared to lose his whole stack. I have no idea what he has because he folded. Whew!
I cashed out shortly thereafter and headed down to Bally's. Once there, I got a welcome hug from Flynn & Ollie and knew that @bigfokkerdog was there, but I didn't see him among the many in the busy room. Bill Tait showed up and said hi, and soon @Vegas724 came, as we had arranged to play together that night. Unfortunately, I wasn't able to get much traction at either table I played and cashed out down a few bucks. Afterward, @Vegas724 and I had a long talk about poker, politics, Chicago, etc. I always seem to feel a real kinship with people who grew up in or around Chicago. After our long chat, it was time to get some sleep in order to be fresh for playing poker on Thursday.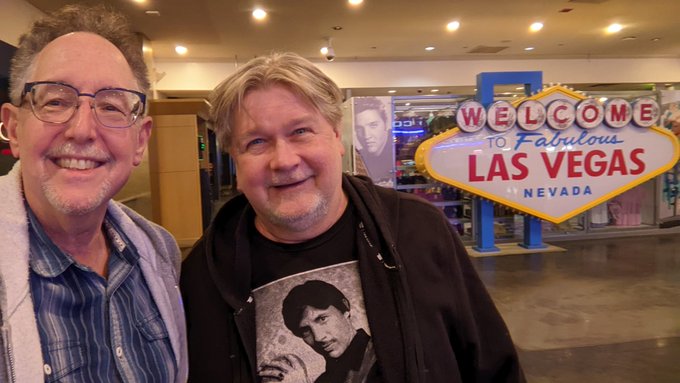 Norm in Vegas and the blog hero after a looooooooong chat 😁
Thursday, November 17, 2022
After sleeping late and having a late lunch, I headed back to Bally's for some late afternoon fun. I immediately got up about $200 when I was on the button with Q-10 and saw a Queen-high flop. I bet every street and could not shake one player. It turns out that he had Q-9! The table wasn't particularly fun for me, and as ZetusLarry had joined me at Bally's, we decided to head to Red Rock. It has become a tradition that we play at least once at Red Rock every time our paths cross. Unfortunately, I lost $100 when luck just didn't go my way. I missed scooping a big pot when I was all in pre-flop with Q-Q vs 5-5 and unknown cards from a player who mucked at the end of the hand. The guy with 5-5, unfortunately, flopped a set and took down the main pot. I did win about $100 from the side pot, however. I called a shorty's all-in while holding A-Qsooted. He had A-A. Meh.
ZetusLarry headed out in search of a chocolate shake, but he dropped me off at ... Bally's! I played a short session there, cashed a little profit, then headed to bed. I would need to check out in the morning. My flight would't leave until the evening.
Friday, November 18, 2022
I checked out of Excalibur put my back pack on and headed north. It amazes me that, except for maybe using a backpack while traveling in London and Paris, I had never actually walked around with a backpack before. Learn something new every day! I felt at home on the Strip since the University of Illinois was playing in town that night and there was a pretty good number or orange-wearing Illini fans up and down the Strip. I headed into Bally's for one last session. Friends Ron and Bill Tait were there, and I was able to meet Ron's wife, an accomplished tournament poker player, before I cashed out even Steven. My Lyft to the airport and my flight home were uneventful, as was my drive home from the airport. Just another trip to Las Vegas that quickly came and went. I was able to pull a poker profit on the trip, so it goes down in the books as a good one.
Epilog: The new Bally's/Horseshoe Poker Room Evaluation
Tables: Excellent
Chairs: Excellent
Lighting: Excellent
Spacing: Excellent
Phone chargers: Poor. Someone seems to have dropped the ball on these. Many that I saw did not work. I was charging my phone at a regular outlet in the poker room and was asked about it by a brush, who had been told that none of the outlets worked
Brushes: Not bad for a new room, but needs improvement. Phone ins were not being taken, as far as I know. I was surprised to be asked my cell phone carrier when asked to leave my cell number so that I could receive a text when my seat was available. Also, the text message said that I had two minutes to check in. They should make it 5 minutes, which seems fair to me. There seemed to be some issues with running the high hand promo.
Dealers: Fair. It was easy to see the experienced dealers like Ron and Eric. However, there appear to be several dealers who still need some experience. I saw several errors or near errors in my sessions. This will get much better over time.
It was a joy to play in this beautiful, new room. The poker staff handled all the new things quite well. I have seen and heard that some new chips were put into play. There are still too many dirty and nasty white and red chips. However, the experience was still great and should only get better. I hope it is a long time before they stop the high hand promotion ($200 every 20 minutes, use only one hole card). They might wish to consider requiring two hole cards, which would make getting a high hand a little more difficult.
Thanks for reading!
👍